To move your company forward, you need to be in constant contact with your customers. You need to listen to them and attend to their needs. Staying close to your customers is one of the most profitable things you can do for the well-being of a company. Read on to see how ActiveCampaign manages to live by this rule and how it benefits their business.
"LiveChat has been an integral tool in doing this because it has kept us close to our clients. There is an easy flow of feedback due to LiveChat's reliability and ease of use."

— Jon Maldia, Lead Support at ActiveCampaign
For all your Internet marketing needs
ActiveCampaign is a platform aimed at making marketing and its automation simple. Over 100 000 businesses use ActiveCampaign daily to advertise their offering, contact their clients and reach new audiences.
"The heart of our operation is focused on helping small businesses. As a small business ourselves, we understand the struggles of having limited resources," Maldia told us. Because of this, ActiveCampaign strives to provide the best available features at an affordable price.
Listening to your customers
To create the best possible service, the company tries to actively listen to customers' feedback and comments. "We are in a direction to make ActiveCampaign into a complete marketing and automation tool," Maldia said. "We try to do that by focusing on what our client's need. LiveChat has been an integral tool in doing this because it has kept us close to our clients," he added.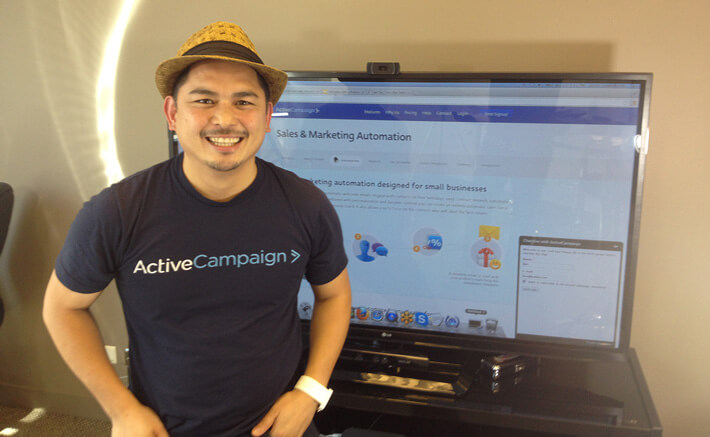 By handling chats on their site, activecampaign.com, as well providing chat access in each of their clients' online accounts, the 10 agent strong ActiveCampaign support team keeps a watchful eye on customers needs and resolves any issues or answers questions as soon as they arise.
Having tried a number other solutions since the company founding in 2003, which include Liveperson and PHP Live!, ActiveCampaign decided to choose LiveChat for its reliability: "We wanted a robust solution that would allow us to provide an exemplary customer experience to our client," Maldia said.
Tools to make it work
ActiveCampaign uses a number of integrations to make their implementation as friendly as possible. To better answer their client needs, they use the Zendesk integration to save conversations as tickets. Additionally, they also use the join.me integration to quickly resolve various issues through screen-sharing.
One of the biggest features used by ActiveCampaign is the LiveChat API. It allows for a number of custom functions like report gathering and chat status preview.
ActiveCampaign agents use feature like whispers and message sneak-peek to offer informative answers: "Message sneak-peek allows operators to quickly gather information before the client sends their message. This saves lots of time," Maldia said.
Implementation results
ActiveCampaign customers seem to be very please with LiveChat: "When we implemented LiveChat a while back, we had a favorable response from our clients. They like the improvement in our response time," Maldia informed us. With LiveChat being a part of the ActiveCampaign application, clients can access support almost instantly, making it one of the fastest support models possible.
Maldia also claims that it would be very hard to provide a quality support without LiveChat: "With a small team such as us ours and a massive user base, it would be impossible to provide exemplary support without an efficient tool such as LiveChat."