Challenge:
Offering an easier and quicker access to technical support on the learning platform.
Solution:
Implementing LiveChat on the learning platform and using LiveChat features to deliver quick service.
Results:
Highly satisfied students who choose LiveChat as a main communication platform.
Students who study online need to keep in touch with the learning provider whenever they have an organizational question or a technical issue. When they are offered an easy way of contact, they quickly solve their problems and focus on what's the most important – learning.
NCC Home Learning, an organization from UK offering distant learning courses, wanted to make sure students can reach out to them the minute they have a problem. A call free phone they offered seemed inefficient as the phone line often got busy and students were waiting too long to be serviced. To make student's life easier and provide better service to them, NCC reached for LiveChat and implemented it on the learning platform.
"We were looking for a chat system to ease the amount of calls we were receiving. By having LiveChat on our learning websites, we wanted to make it easier for our customers to get in contact with us."


— Joshua Swann, IT Technician at NCC Home Learning
Flexibility in reaching for help
NCC Home Learning offers over 350 online courses in a wide range of subjects from Business to Childcare. The courses are described, in details, on two NCC's websites: one dedicated for individuals and the other dedicated for organizations. As soon as clients pick a course and pay for it, they get access to an online platform and their learning begins.
Students choose freely when and where they study and learn at their own pace. Such a flexibility in accessing an online platform requires same flexibility in reaching for help with technical issues or questions about the course. Offering LiveChat seemed the best way of contact for that matter. "We went with LiveChat because it seemed the best suit for us," said Joshua Swann, IT Technician from NCC "It was easy to use and install on the websites, and we could choose how the chat window looks."
Quick and reliable service
The NCC's LiveChat is available on all pages in the learning platform and with one click students can reach out for help when they need it. As they continue to use the learning platform, they just know the chat is there and a human being is on the other end ready to give them a hand.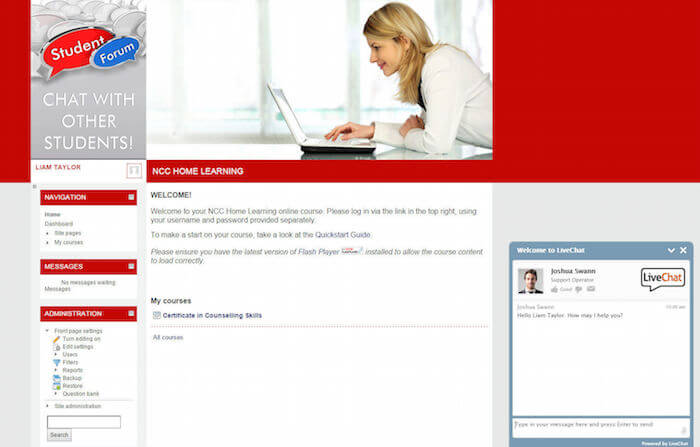 There are 6 agents working on LiveChat during office hours, and 2 agents working in late evenings. They cover technical support during the daytime, as most of the NCC's students access courses at that time. However, students who need help at night are not left alone. They can leave messages in a LiveChat contact form and the support staff deals with their cases early in the morning the next day.
The support team realizes it's frustrating for students to stumble upon an obstacle during the time they have to learn. Keeping that in mind, agents aim to solve students' problems in a flash. To provide fast help they rely on two LiveChat features: visitor details and canned responses.
Visitor details are helpful with web-browser issues. When a student tries to access a course, he or she often has a problem with setting up a web-browser right and, as a result, can't access the course. When a student with such a problem starts a chat, information about a web-browser show up in a visitor details section. With this piece of data agents can quickly offer relevant help. "You can see what web browser the customer is coming from," said Joshua, "and it makes things easier for me as I can send them the response to the right issues for that browser."
Canned responses, pre-made messages hidden under keyboard shortcuts, help agents answer most common questions and deliver help faster. "I deal with the technical issues on the sites and most of the issues are the same, so having canned responses makes life easier," said Joshua. "You can just send the canned response instead of typing up the same answers multiple times"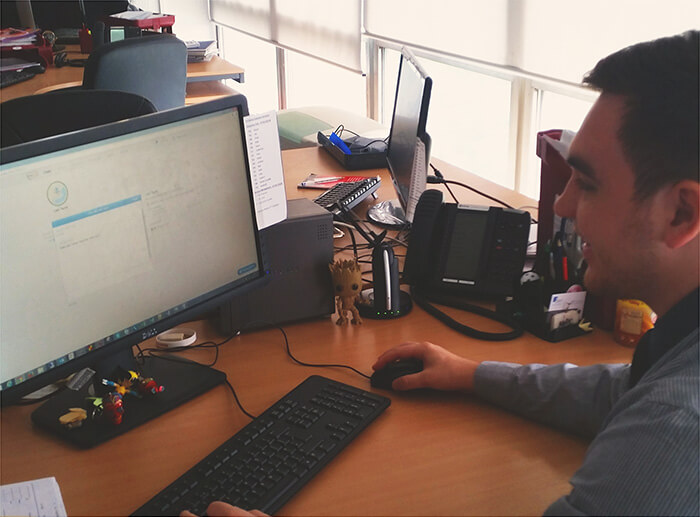 NCC knows they need to provide reliable customer service, as it's a big part of student's overall happiness with the course. To get an insight of the quality of the service, the support team monitors student's satisfaction with chats and tickets. Students rate chats or tickets as "good" or "bad" and the support team sees the satisfaction score in the Ticket or Chat Satisfaction Report. Inside each report agents quickly open up "good" and "bad" cases and see why they have been resolved properly or poorly. By receiving the feedback NCC constantly improves the customer service and scores on average 90% satisfaction for chats and almost 100% for tickets.
NCC's LiveChat is also used on commercial sites and agents who do support are also eligible to give visitors advice on picking out the right course. People usually start a chat to ask a simple question and the information they get is a missing puzzle helping them decide to purchase a course.
Easier and quicker support
Implementing LiveChat on the NCC's learning platform was a move towards delivering easier, quicker and better support. The number of received phone calls dropped and students started using LiveChat as a main communication platform with the organization."Students find it easier to contact us through LiveChat and inquiries are handled quicker than if students sent them via email," explained Joshua.
Within commercial websites, LiveChat has brought in more inquiries. "Customers find it easier and less intimidating to contact us through the chat system," said Joshua. Since LiveChat has been installed they observed a 20% rise in the number of new customers coming in after chatting.
The NCC Home Learning wants to keep well-performed customer service using LiveChat and be in easy reach for students and potential clients. They believe a quick and reliable service will make their customers satisfied and they will either sign up for another course or recommend the learning provider for others.