Challenge:
Giving parents an easy and quick way to contact the camp organizer.
Solution:
Offering LiveChat on the website and answering to parents' questions on the spot.
Results:
More questions are asked by parents, more camp registrations are finished up.
When parents are looking for a summer camp for their children, many questions about how the camp works pop up in their heads. The answers to these questions help parents make the right decisions, and the quicker they get them, the better they feel about sending their children to that camp.
Steve & Kate's Camp, a nationwide summer day camp in the USA with over 34 years of history, noticed that parents often lack the time to write an email or make a phone call to ask about the camp and, as a result, they leave Steve & Kate's Camp's website undecided. To deal with this and to give parents an easier and quicker way of contact, the company implemented LiveChat on their website.
"We felt like LiveChat would enable parents to reach out during a quick break at work, without having to make a phone call. Our goal was to make sure parents could have their questions answered as quickly as they could ask them."


— Callie Rae McCarthy, Family Experience at Steve & Kate's Camp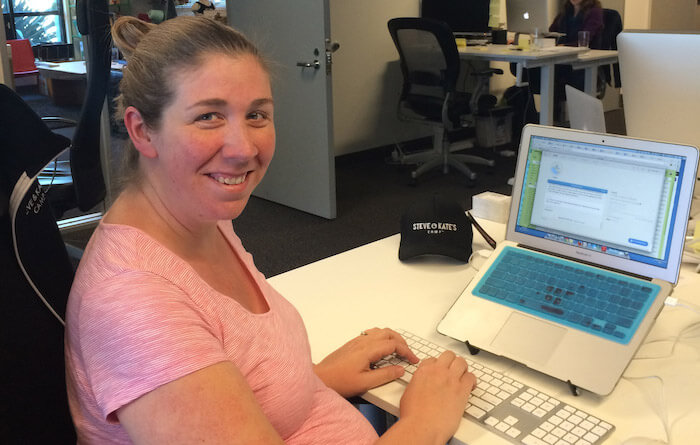 Onboarding
Steve & Kate's Camp's LiveChat is available on all of their webpages and parents can get in touch no matter what page they are looking at. During the workweek, parents can chat during the working hours and leave a message after hours using a contact form. "Our families love the LiveChat feature," said Callie Rae. "We get comments every week that it's so great to have the ability to connect quickly for their questions."
The chat window is customized to fit the modern look of Steve & Kate's Camp's website. They use funny and easygoing messages in the chat window to keep the conversation casual. When the chat window is inactive, it says "Wanna chat?" and when the chat window is active it says "Now we're talkin'."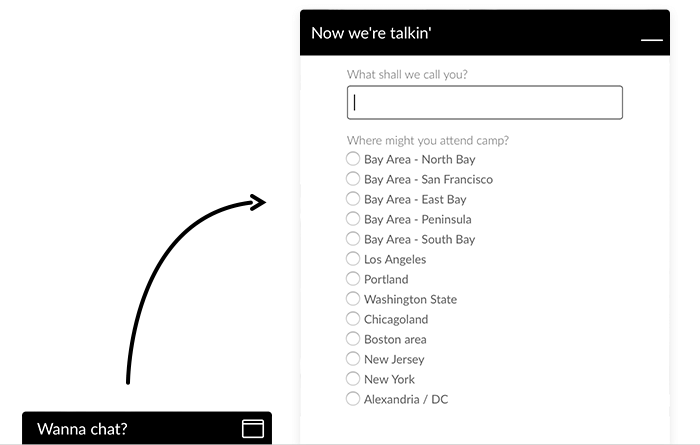 The after hours message has been customized in a similar way: it says "Messages & jokes welcome" when minimized and, when you open the contact form, it says "Knock knock. Who's there? Not us, but if you leave a message we'll get back to you asap."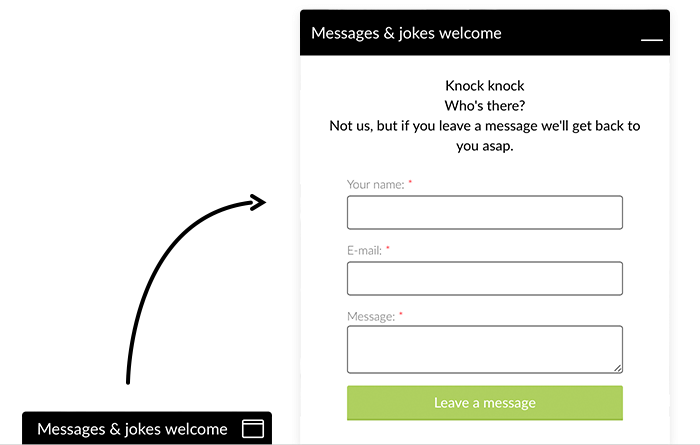 There are two agents working in the support team and they handle about 40-60 chats a week. However, the closer it gets to the peak season, the more chats there are. For the summer, they are planning to add another agent to make sure all chats are answered.
At the beginning of each chat, the pre-chat survey asks where the family plans to attend a camp. With this piece of information, agents know what the family needs right away and are ready to give swift and relevant answers.
Agents quickly answer parent's common questions with the use of canned responses. Canned responses are the pre-made messages that can be recalled with just a few keystrokes. Callie Rae noted that this feature improves their overall efficiency. "We'd probably need more agents if it weren't for the canned responses," she said.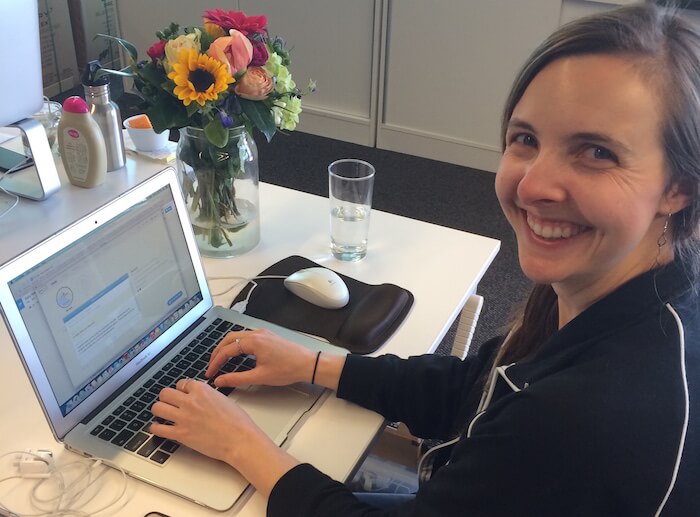 Steve & Kate's Camp's LiveChat has been integrated with Desk.com, a customer service platform they use to handle all of their customer service, which allows the company to have a long-term record of all communication with each family, whether by LiveChat, phone or email.
More questions and registrations
Offering Steve & Kate's Camp's LiveChat to the parents resulted in more inquires. Last year from January to mid-April, they had about 450 contacts via emails and phone calls. This season, they had about 1600 contacts via emails and phone calls and almost 1100 contacts via LiveChat.
Callie Rae assumes that, in the past, families had questions but didn't feel like it warranted the time and effort to send an entire email or make a phone call just to find out something simple, like camp dates or associated fees. Now parents are asking questions right on the webpage and get all the informations they need. "We're extremely happy with LiveChat," said Callie Rae. "Our ability to connect directly with our families in the same moment as they have questions is invaluable. Who knows how many people might have left our site in years past because they couldn't find what they were looking for right away!"
Offering LiveChat on the website also helped with the number of completed camp registrations. Before LiveChat, parents used to stop the registration process to ask about the details via phone and email, which led to many unfinished registrations. Now these parents ask all their questions right on the registration page, which according to Callie Rae "is leading to more registrations at the moment, and overall, for us."
Steve & Kate's Camp support team is now getting ready for the coming summer. Equipped with LiveChat and bearing big smiles on their faces, they are set to answer all the questions that parents will come up with.