Facebook Connect and social media buttons are currently not supported. At the moment you can connect LiveChat to
Facebook Messenger
.
Facebook Connect and social media buttons are currently not supported. At the moment you can connect LiveChat to
Facebook Messenger
.
Nowadays, everyone has some kind of a social media account and uses it as an online alter-ego. These social media profiles are real goldmines in terms of useful information.
LiveChat can help leverage that personal information to aid sales people in their day to day research and boost their conversion rates through the roof!
LiveChat and Facebook Integrations
We have a number of helpful Facebook integrations available.
1. Facebook Messenger Integration – Connect with your customers using the upcoming Facebook Messenger integration. It will allow you to chat with customers directly over Facebook anytime and anywhere.
Check out the Facebook Messenger integration page for more information and beta access.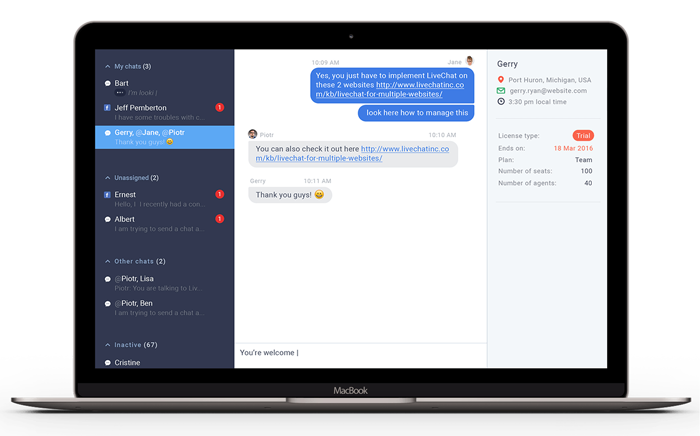 2. Logging in with Facebook Connect – it speeds up the log in process and provides public Facebook information of the visitor. Read more about the Facebook Connect integration.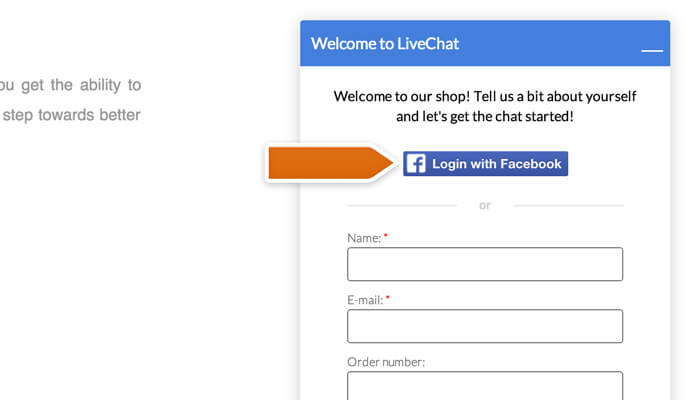 3. LiveChat application for Fan pages – this integration allows your visitors to chat with you through your Facebook fan page. Learn how to set up this integration in the Adding live chat to Facebook tutorial.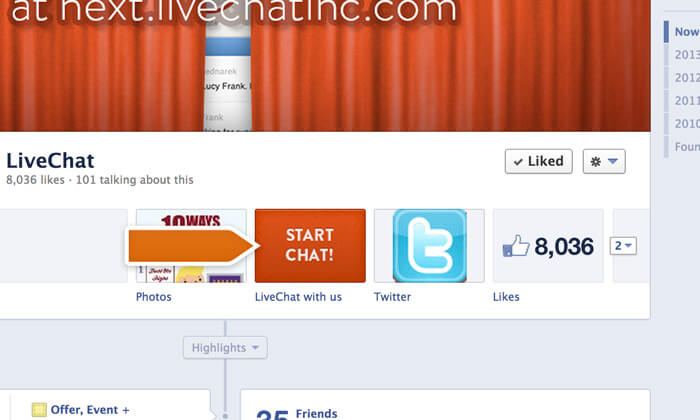 4. Facebook like button in the chat window – integration that helps you grow your fan base. Learn about Facebook button integration.
Social media buttons
You can also add Twitter and Google+ buttons to your chat window. They can lead your visitors to your fan-pages and increase your company's social media presence. You can activate those buttons in the Theme section.
To add these buttons, click on the Advanced window tweaks link.
Next, you need to provide the addresses to your social media profiles. For example, click on the Add a link to Twitter and type in the URL to your Twitter profile. Select I'm done editing to finalize changes.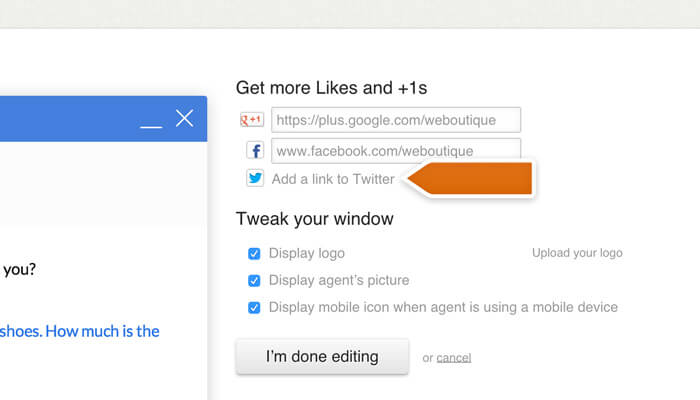 Now, your users will be able to directly go to your Google+ or Twitter page. See for yourself how quickly your fan base can expand!