Facebook: chat with your fans
Have you ever wanted to chat live with your Facebook fan page visitors? Now you can!
LiveChat for Fan Pages will give you an additional way of reaching potential customers through Facebook. You will be able to add LiveChat to your fan page and keep the communication within one channel.
Setting up
To get LiveChat for your Facebook Page, visit the app's installation page.
Note: To add LiveChat to a Facebook Page, you need to have Admin privileges on that page.
Next, click on the Add LiveChat to your page button.
If you have more than one fan page, select the page on which you want to install LiveChat and click on the Add LiveChat for Fan Pages button.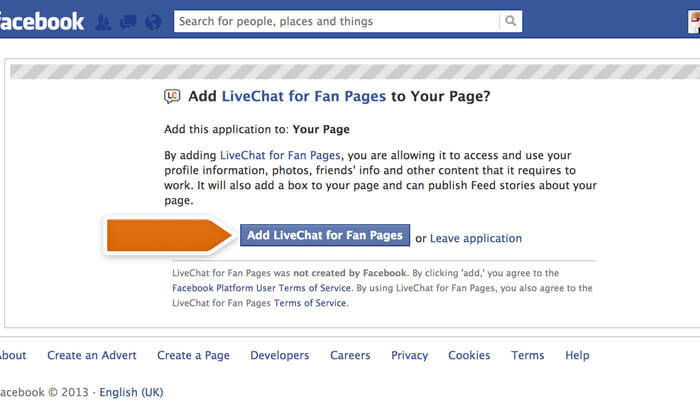 You will be automatically redirected to your fan page. A new icon, LiveChat with us, will appear in the Apps section. Click it to finish the set up.
Note that this button is not supported on mobile devices. Click here to lear how to add Contact Us button redirecting to your chat window on mobile.

All that is missing is your LiveChat email address and your API key. You can get your API key by going to the API key page.
Copy and paste the API key to finish the setup. Click on Activate to finalize.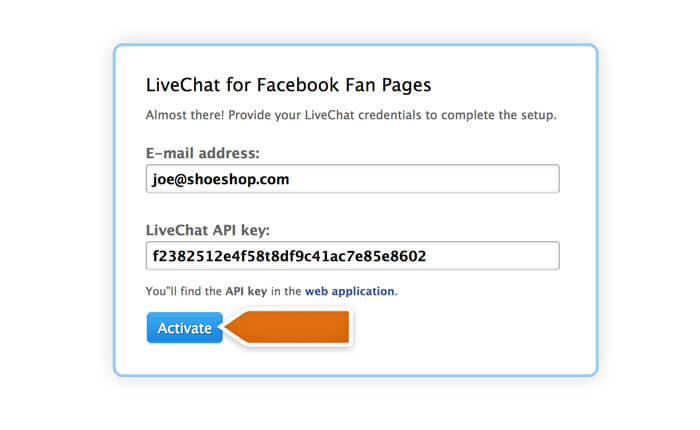 If you want a particular group of agents to handle the chats coming from your Facebook page, pick this group from the drop-down menu.
From this moment, your Facebook Page visitors will be able to contact you through your LiveChat on Facebook.
LiveChat on Facebook Fan page for mobiles
LiveChat with us button does not appear on mobile devices, but there is a small work-around that we can propose. You can add a Contact Us button to your Fan page and linked it with the Direct Chat Link from your LiveChat account.
Open your Facebook Fan page as the Administrator and click on Add a Button link.
On the next screen, choose a Contact Us button and paste your Direct Chat Link under the Website category. You can get it from Settings > Installation > Direct Chat Link or by clicking here.
Next, click on Create to add Contact Us button to your Facebook Fan page. From now on, when clicking on this button, your website visitors will be redirected to your chat window.
Done! From now on, when your Facebook Fan page visitors will click on Contact Us button, they will be automatically redirected to your chat window!
Customizing the name and the icon of the LiveChat app
You are welcome to personalize the name of the tab and the icon beside it. To change those choose Settings and then click on Apps in the menu on the left. Next, click on Edit settings.

You will see the a pop-up window. To change the name of the tab, provide the new name in the box next to Custom Tab name and then click on Save button.

To change the icon, click on Change next to Custom tab image. Then put your cursor on the icon and click on Edit.

Prepare JPG, GIF or PNG file which is exactly 111 x 74 pixels and no more than 1 MB and upload it. The changes will be saved automatically.
Upcoming Facebook Messenger integration
Let your Facebook followers contact you via their Facebook chat window. This integration will allow you to handle all Facebook chat messages in your LiveChat app.

To learn more, visit the feature page. Note that this integration is currently in development.