Magento: adding LiveChat to your site
You can easily add a live chat feature to your Magento-based web shop by following this guide. This will give your online visitors a chance to chat with you in real time straight from your shop.
Note that this tutorial is dedicated to
1.X
version of your
Magento
store. If you are using
Magento 2
, click
here
and follow the steps from the tutorial dedicated for your version.
Installation
To install LiveChat on your Magento site, you need to follow these few, simple steps:
Download the LiveChat module for Magento.
Unpack it. Copy the contents from the livechat_magento folder to your Magento installation directory.
A new LiveChat tab will appear in your Magento panel, click on it to proceed.
Enter your LiveChat login and press Save.
Congratulations! A LiveChat module has been installed. Now, you can add a chat button to your Magento site.
If the
LiveChat
tab doesn't show up immediately, try restarting your Magento cache. Read more about
Cache Management
.
Adding a chat button
You can add a chat button to your Magento site in order to give your online visitors a chance to talk with you. To do this, follow the steps below:
Log in to your Magento admin panel and select the CMS tab and click on Static Blocks.

Click on Add New Block button located at the top-right.
Input the Block title as "LiveChat", Identifier as "livechat" and set Status to Enabled.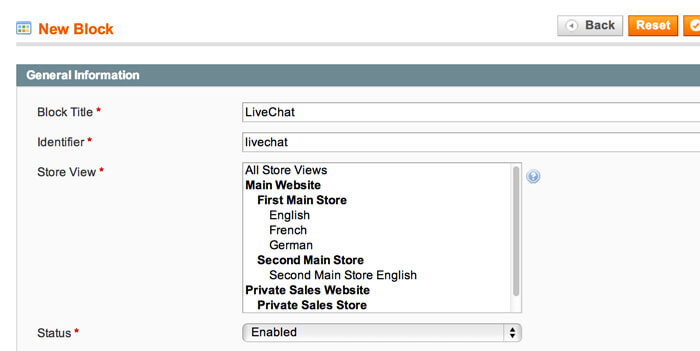 Click on Show/Hide Editor.

Go to Chat buttons section.
Click Install next to the existing button (or click Add a chat button and then Add a graphical button, to add a new one).
Copy the Installation code of the button.

Paste the code in the Magento editor.

Finalize by Clicking on Save block at the top-right.
You're half way there. Now, you need to add the newly created block as a widget on your site. Do this in the following way:
Once more click on the CMS tab and select Widgets.

Click on Add New Widget Instance at the top-right.
Choose CMS Static Block as Type, and base/default as Design Package/Theme and select Continue.

Set Widget Instance Title to "live chat button".

Click Add Layout Update and select on what pages the button should be displayed (we suggest All pages).

Choose on which portion of the page the button should display.

Click on Widget Options.
Choose Select Block and pick your newly created LiveChat block.

Finish by clicking on Save in the upper right corner portion of the page.
The button will now display on your Magento site and your visitors will be able to access you through chat.
What's next?
Now, all that is left to do is to log in to our web application, or download one of our applications and start chatting with clients! You can also check our Knowledge base for many useful tutorials and guides.