More chats with the Eye–catcher
Your chat window can sometimes be omitted by visitors. The small Chat now button can get lost in all the bells and whistles already present on your website. If your slick, customized with CSS, chat window doesn't catch the attention of your visitors, the eye-catcher is just the way to go.
Be visible
Tell your visitors that they're just one click from getting an immediate help. A nice-looking graphic can help you build trust between you and your customers. They will know that anytime a question pops out in their heads, the solution is to click the colorful badge and ask the operator for help.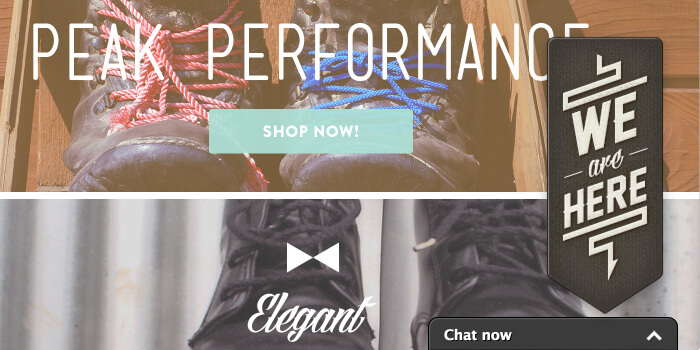 Oftentimes visitors can't find your chat window, even if it's there. They focus on other sections of the website or try to look for help in all the wrong places. Such situations result in unsatisfied visitors who wanted to ask about something but didn't find a way to do that. You can simply avoid this by placing an easily visible graphic, the eye-catcher, to draw your visitors' attention.
An eye-catcher can prove to the visitors that you really care about providing a world–class service and support. By making the chat window more visible, contacting your chat team and getting answers is just one click away.
Design your own eye–catcher
You can set up the eye–catcher in the Eye-catcher section. Click on Enable eye-catcher select Save changes to finalize the change.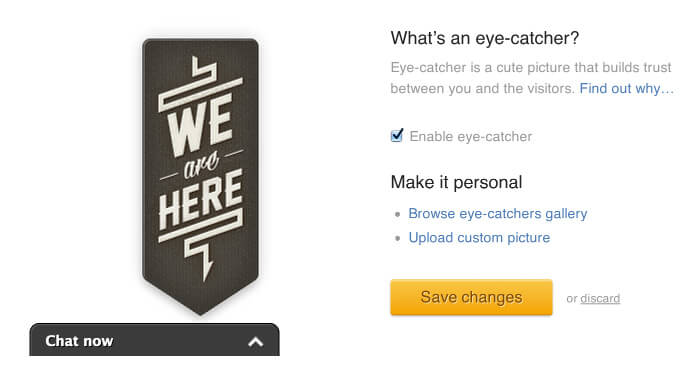 You are not limited to the eye–catcher that LiveChat comes equipped with by default. Just prepare your own graphic and upload it in the Eye-catcher section, by clicking install next to any existing button. Although the eye-catcher graphic can be as big as you wish, you don't want it to cover your entire website. Try starting with a 300px by 200px eye-catcher and see if it works with your design.
When customizing your eye-catcher, you can use a .gif file of an animated graphic. This will allow you to have an animated eye-catcher that will draw even more attention to your chat.