TeamViewer: desktop sharing through chat
Gain access to your visitors' desktops and control them remotely using the TeamViewer integration to resolve support cases quickly and efficiently.
If you want to use the TeamViewer application commercially, be sure to purchase a
TeamViewer license
.
Installation
To install the TeamViewer integration, follow the steps below:
Go to the TeamViewer integration site and click on Install application.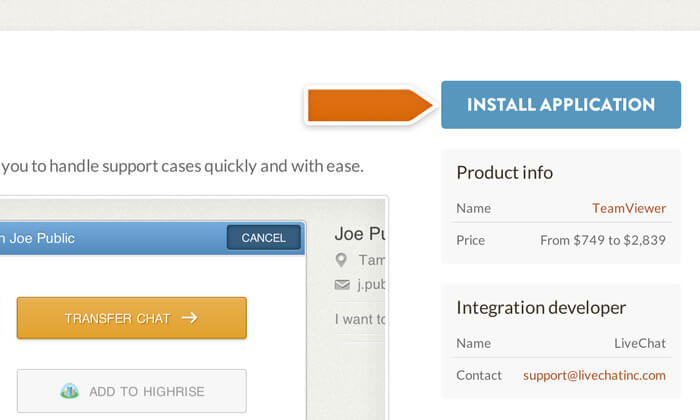 Proceed by selecting Install.
The integration is now active and you can use it during chats with website visitors.
Using the integration
To use the TeamViewer integration, do the following:
Click on More during a chat with a customer and select Access desktop.

The visitor will receive a link to TeamViewer application in the chat window. Ask the visitor to click it and to run the application.
Download the TeamViewer full version and ask the visitor to provide Partner ID and Password.
Enter the Partner ID and Password in the TeamViewer full version to connect to your visitor.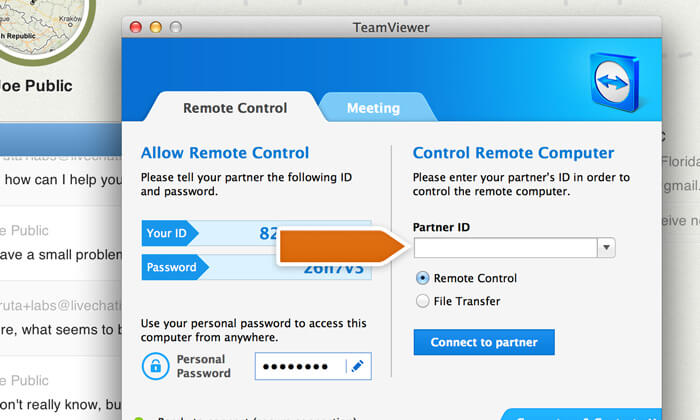 You will now be able to control your visitor's desktop remotely and resolve any possible support case.