This is the first version of the LiveChat – Salesforce integration. Go
here
to read the tutorial on the second version, which enables you to pass
Leads
,
Contacts
,
Cases
to your Salesforce and much more!
Remember that you can use both versions at the same time.
Salesforce: adding contacts from chat
Our Salesforce integration will help your sales and support teams move any relevant chat data to Salesforce with a single click. This will keep your operators updated on previous communication with new and existing clients.

When adding a contact to Salesforce, you will be able to add it as a new Lead, Contact, Account, Opportunity or Case. You will also be able to add it to already existing cases.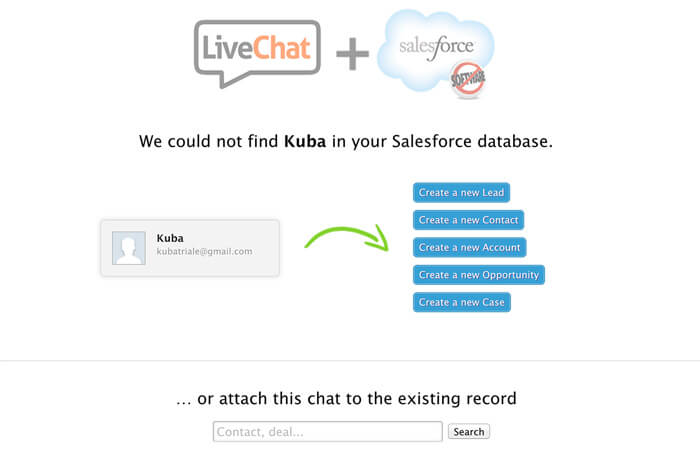 Your agents will also have quick access to the Salesforce information in the chat window.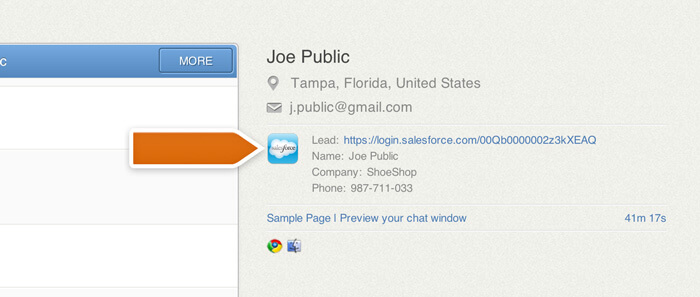 Installation
In order to install this integration, go through the following steps:
Log in to your Salesforce and Install LiveChat module.
Click on Continue to proceed.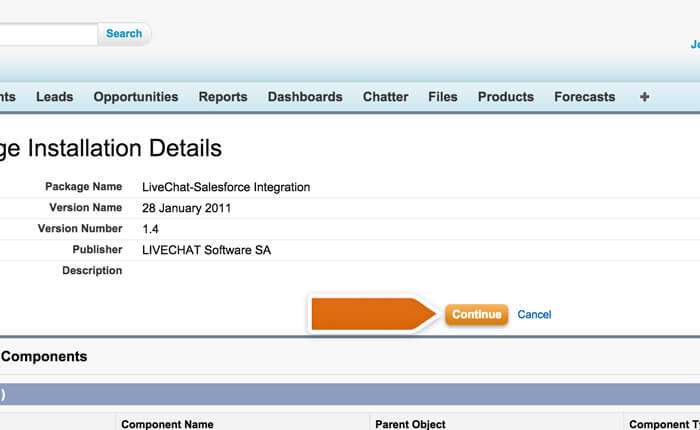 Afterwards, click on Next.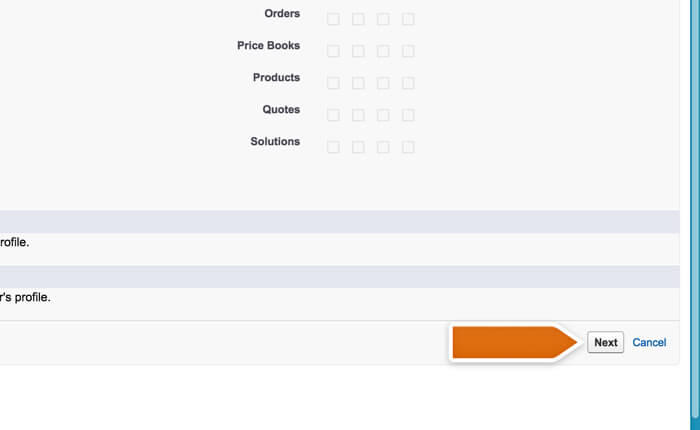 Click on Install to finalize the process.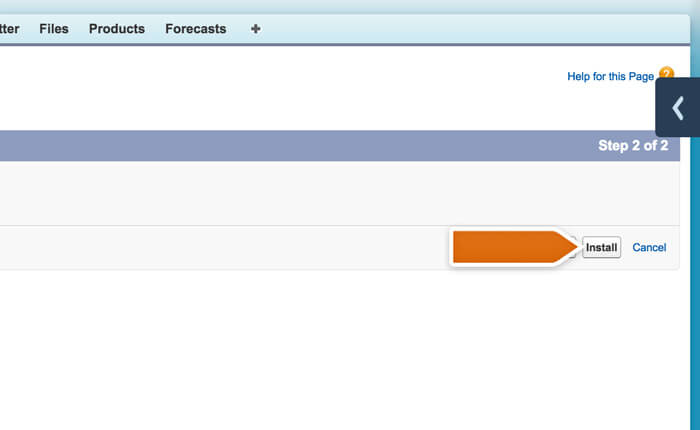 In order to create the list, follow these guidelines:
Click on Setup in the top right portion of the screen.

Choose Customize from the Build section of the menu.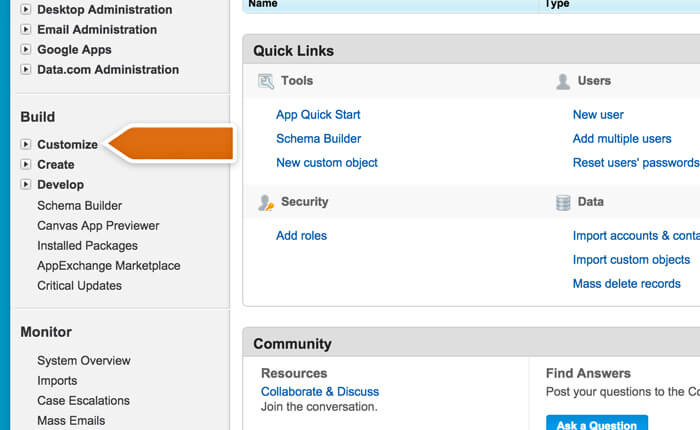 Go to Leads and click on Page layout.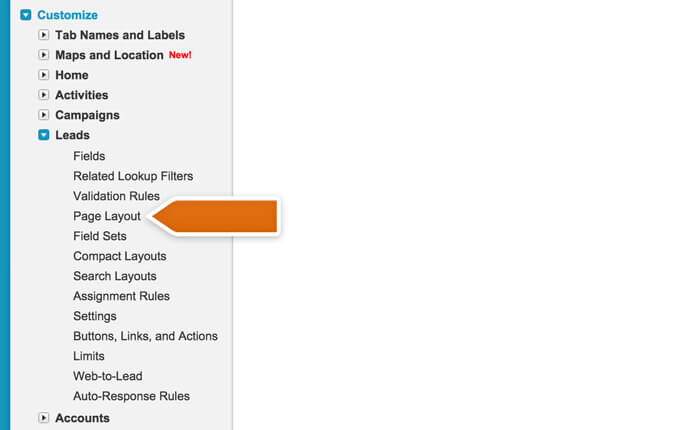 Click on Edit.
Choose Related Lists and drag-and-drop Chat Transcripts from the available pool of lists under the Lead Detail section.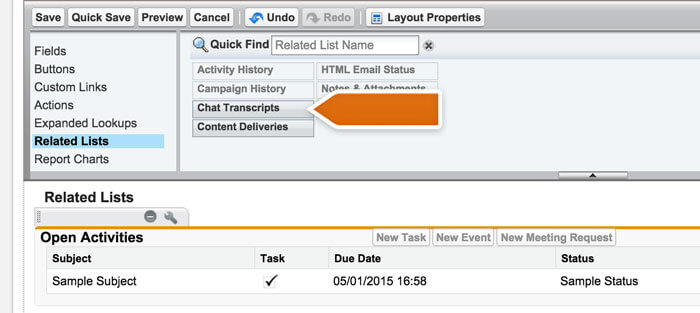 Click on Save in order to finalize the list changes you've made.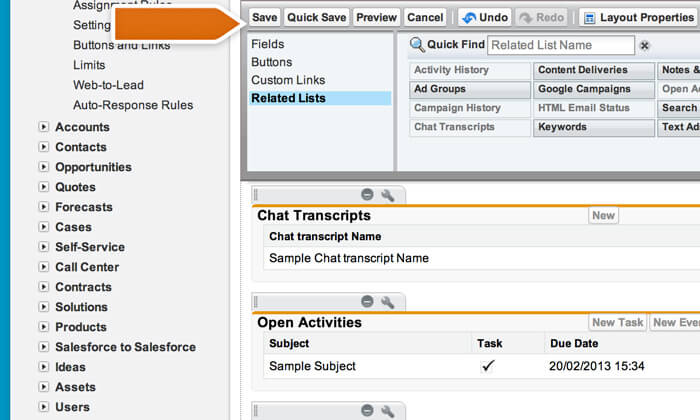 You have to add the chat transcript separately for different types of lists. If you want the chat transcript to appear in your events, cases or any other lists, repeat the steps above in the respective lists configuration menus.
Activating the integration
After installing the integration and setting up lists, you need to integrate it with your LiveChat. To do that follow this link and proceed by clicking on Install.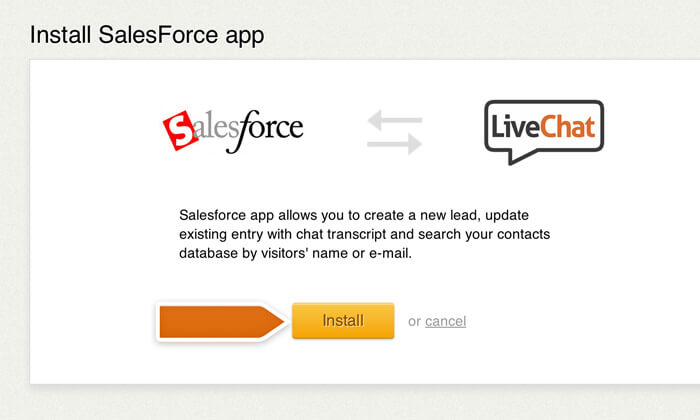 All set! Now it's time to create your first Salesforce entry.
First time use
When you use the integration for the first time, i.e. create your first Salesforce entry through LiveChat, you will be asked to login and provide your security token. This will tie your application to your Salesforce license and will allow you to use it with no need for additional logins.
In order to do this, click on More in the upper right portion of the chat window during a conversation with a customer. Next, click on Add to Salesforce.

You can also store customer information from an archived chat. To do that, select a chat in the Archives and click on the Add to Salesforce button.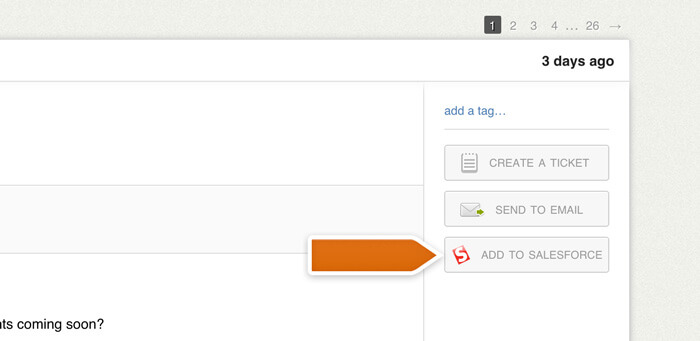 You can start a conversation with yourself or with one of you colleagues to set everything up without having to deal with clients at the same time.
You will be brought to this login screen. Enter your credentials. You will be asked to provide your security token too.
In order to get your security token, you have to log in to your Salesforce panel.
If you are already using a security token for some other integration you can use the same one. Don't reset the token if you have it tied to another integration or application. If you do, you will need to enter the new token in those integrations and applications.
To reset the token, you need to click on your user name and select My settings.

Proceed to the Personal section.

Select the Reset My Security Token option from the menu.

A new security token will be sent to you inbox. You need to type it in during your fist time use of the Salesforce integration in the format required by Salesforce, i.e. first your password and then your security token. Hit Save to finalize the process.
Congratulations! Your Salesforce integration is now fully active and you can start reaping the benefits.
Pre-chat survey field mapping
You can map the pre-chat survey fields to their Salesforce equivalents to make your records more detailed. To do that, simply log in to LiveChat and go to the Salesforce integration settings. Click on the fields mapping link to configure the fields.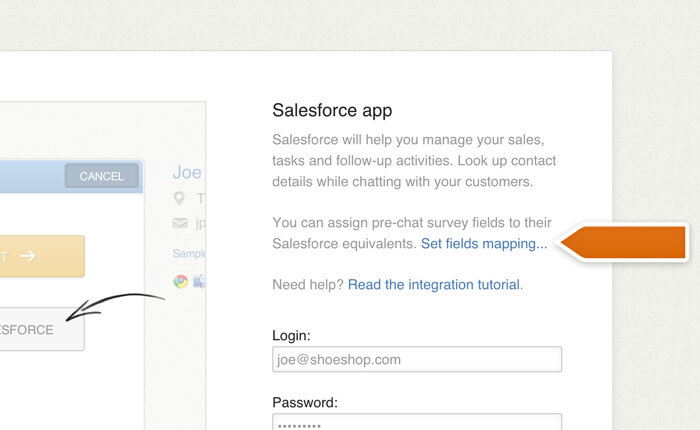 Depending on the way your pre-chat survey is configured, you will be able to map different types of fields. To map a particular field, simply click on the drop down menu beside a particular pre-chat survey item and select a Salesforce equivalent that you want to assign to that item. When you are done, click on the Save changes button to finalize.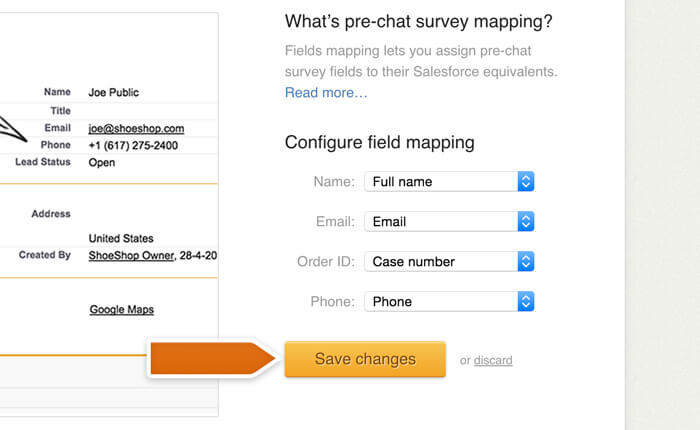 Once you set up the fields mapping, all the contacts you create using the Salesforce integration with LiveChat will be stored on your Salesforce account with the additional data from the pre-chat survey.