LiveChat Customer Happiness Report
How to make customers happy using online chat
See what it takes to create unforgettable customer service moments. Using data from over 600 businesses and 1,760,000 chats, we prepared an analysis that highlights key customer service components.
See how your industry is performing and if you above or below the average results.
This is the 1st edition of our annual Customer Service Report. Make sure you also check out the latest version of our customer service report. with data from millions of chats and thousands of companies.
The LiveChat Customer Happiness Report includes:
Analysis of customer service based on data from 600 companies and 1,7 million chats,
Customer service metrics like customer satisfaction, average response time, handle time and more for different industries,
Conclusions and good practices that will help you improve your customer service.
Get access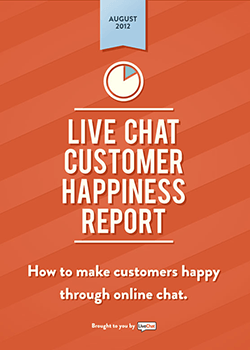 Other resources you might like
Start free LiveChat trial!
5-minute setup, test out the Team plan features for 14 days, no credit card required.

Rate this chat to help us become better support.
+