Chat surveys
Contacting a business through its website shouldn't be that different from having a one to one interaction with a real person. Knowing your visitors is key to providing a great personal service, and what better way to get to know your customers than to ask for information using chat surveys.
Pre-chat survey
Use the pre-chat survey at the beginning of each chat to collect relevant information. Asking users for name, email or customer ID speeds things up, as you can skip those questions later in the chat. Having such knowledge at hand, you are prepared to provide a better, faster and personalized service.
Design your Pre-chat survey
Think what info would be most useful during a chat and then ask for it in the survey. You can add as many fields as you like, but the more fields you add, and make required, the less likely people are to chat with you. Three-liners requesting name, email and short description of the inquiry work in most cases.
To customize the form, go to the Pre-chat survey section of your control panel.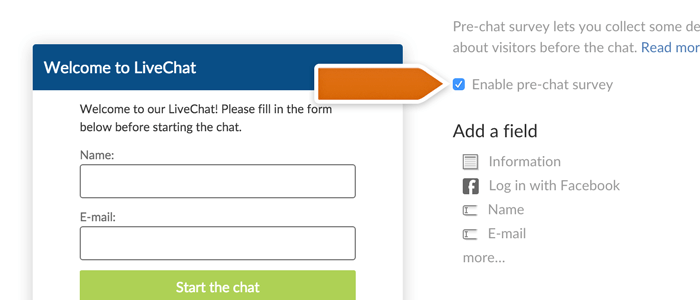 Making the pre-chat fields required can significantly increase the quality of your chats by limiting the number of accidental visitors. To make the fields mandatory, hover over the survey fields and click REQUIRED and Save changes to finalize.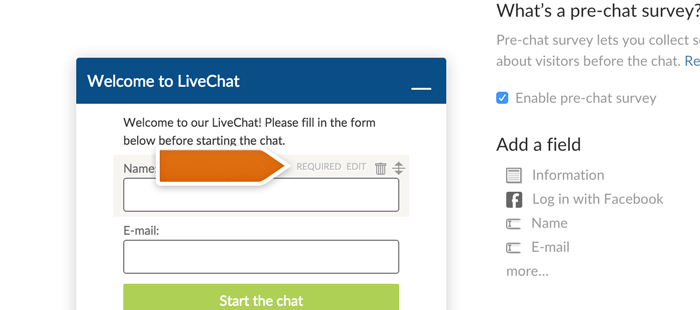 If you are using the Salesforce or SugarCRM integrations, you can map specific fields from the pre-chat survey to their
Salesforce
and
SugarCRM
equivalents.
Pre-chat department routing
Having several departments, such as sales or support, you can use the pre-chat survey for smart routing. Let your customers choose whom they need to contact to avoid delays and transfers between departments.
In order to let visitors choose a particular agent or department, you need to add a target group field in you pre-chat survey. Read more
Pre-chat survey after greetings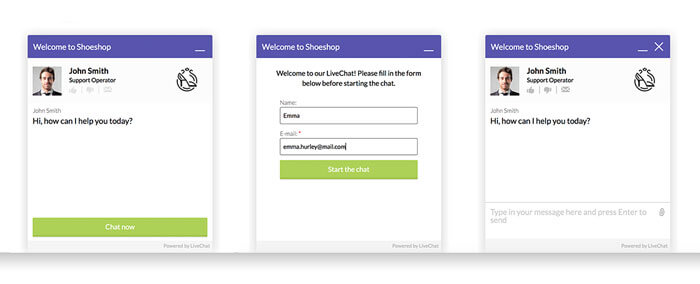 Enhance your pre-chat survey even more by using it with greetings. Before deciding on how you will use this feature, think of your business goals first.
The pre-chat survey after greetings works great if you want to collect users details. Enable it to get to know your visitors and offer a better-tailored experience. Even though, the number of your chats may drop, their quality is bound to be higher.
On the other hand, no pre-chat survey means less barriers. So disable the pre-chat survey after greetings if you want your chat to be more accessible to your visitors. It is best to try both approaches to see which works best for your business.
Enabling the pre-chat survey for greetings is very easy.
Login as an Admin or Owner and go to the Pre-chat survey section of your control panel. Tick the option to Show pre-chat survey after greeting and finalize by clicking Save changes.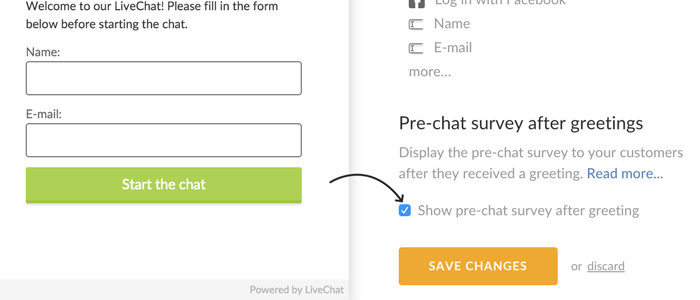 If you are using the Starter plan, the pre-chat survey will always show after greetings.
Facebook login
Our Facebook login integration is another way of having some basic information about your visitor from the very beginning of the chat.
Thanks to this integration, your visitors will be able to login with their Facebook accounts, giving you a number of valuable benefits. You will see customers' names, e-mails and pictures along with any public information on their Facebook walls.
You can enable the Facebook login option in the Pre-chat survey section of the control panel. You have to click Log in with Facebook and then on Save changes.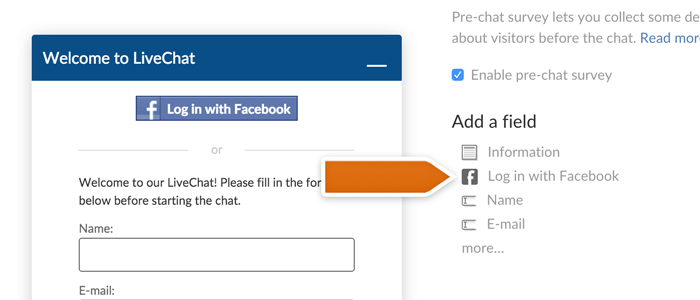 If you have both, the pre-chat and Facebook login enabled, your visitors will be given a choice at the beginning of each chat. They can either fill in the pre-chat survey or use their Facebook accounts to start a chat.
Post-chat survey
We also have post-chat survey which is great to see what customers think about your company. You can let them assess your agents or ask them to leave comments.
To set it up, go to the Post-chat survey section. You can use the default forms or customize it to your liking. Remember to click on Save changes after you are done setting it up.